ZEISS LRP S5 318-50
Includes Free Pro Series Throw Lever and Billet Level
The ZEISS LRP S5 318-50 is a first focal plane riflescope with a 34 mm main tube, and provides a massive amount of total elevation travel out-of-the-box, which is extremely beneficial for long-range hunting.
The LRP S5 3.6-18×50 magnification range will cover a multitude of hunting scenarios from stalking, to high stand, to open terrain mountain hunting. The 50mm objective yields a more compact scope and allows for mounting the scope on smaller rifle platforms for an ideal fit and scope-to-rifle application.
This model is available in both Milliradian and Minute-of-Angle configurations. It's perfect for specialized hunting; and it is the preferred choice on long-range hunting rifle platforms calling for a more compact optic with most excellent performance characteristics.
With an extremely large field-of-view, the ZEISS LRP S5 318-50 is an ideal scope for varmint and predator hunting, big game hunting, and long-range hunting.
Reticle ZF-MRi 
Illuminated
The ZF-MRi smart reticle was designed with professional input from active competitors and instructors. Its purpose is to dominate at PRS and NRL matches. The milliradian (MRAD) reticle incorporates a "tree-style" primary structure with useful hash marks, dots, and reference numbers –without the clutter. The points-of-aim and holds are represented in 0.2, 0.5, and 1.0 MRAD increments; and even numbers are displayed for fast and intuitive visual reference. If winning is your goal, then the ZF-MRi reticle was made for you.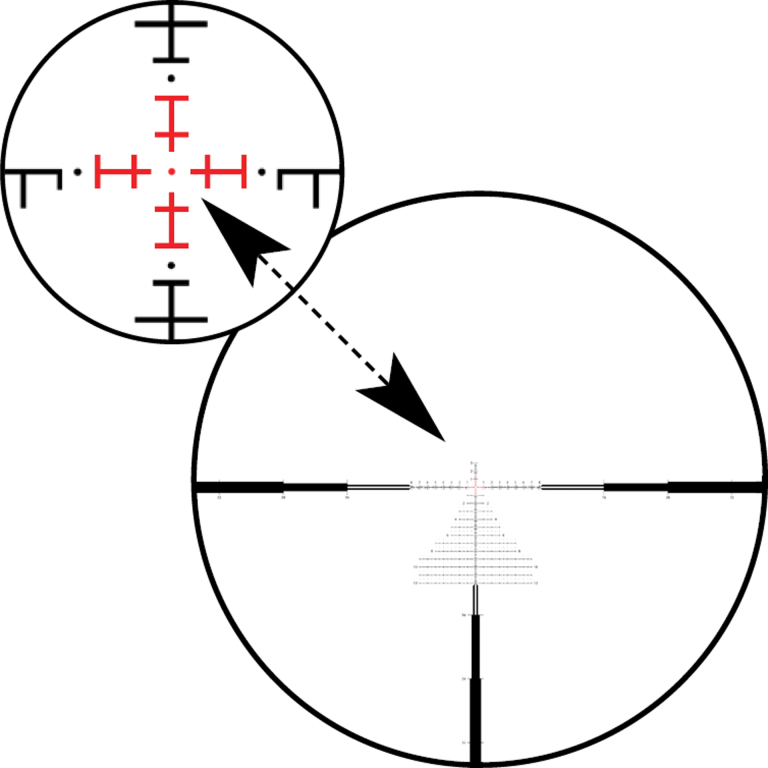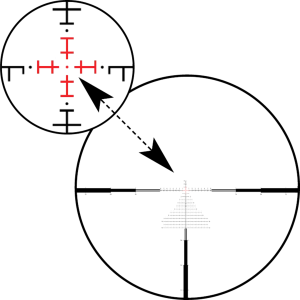 Reticle ZF-MOAi 
Illuminated
The ZF-MOAi smart reticle was designed with precision shooting and long-range hunting in mind. This is a great reticle for the most challenging shots in the field and on the range. The clean and clutter-free reticle utilizes hash marks that represent 1 MOA (minute of angle), and even numbers are displayed for fast visual reference. The windage dots below centerline are placed at 2 MOA increments, so that you can easily confirm the wind's influence on the bullet's impact down-range. The floating center point of aim provides a precise hold on the most difficult targets.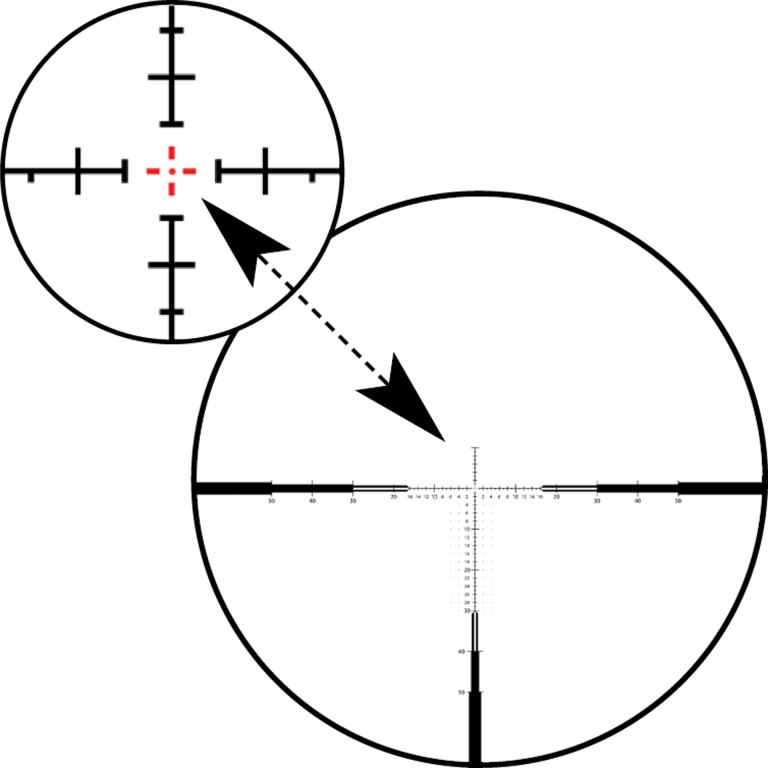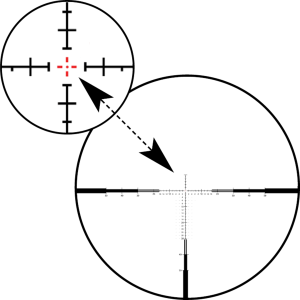 ZEISS LRP S5 318-50 Features
Best-in-class total elevation travel

A massive total elevation travel of 40.7 MRAD or 140 MOA allows the ZEISS LRP S5 to be more capable than your ammunition – and engage targets up to 1,500 yards and beyond out-of-the-box.

Daylight visible illuminated reticle

Digitally controlled diffractive reticle illumination technology delivers an exceptionally bright point of aim – regardless of the amount of incoming light – allowing you to confirm precise shot placement on target.

Highly repeatable and tactile turrets

Precise adjustments provide you with absoluteassurance of making the most accurate shotspossible – regardless of distance.

Compact and heavy-duty riflescope

Final validation of the design proves the ZEISS LRP S5 riflescopes withstand multiple shock tests of an enormous 1,500 g-force. Design requirements also include initial shock testing of over 800 impact cycles at 1,000 g-force.

A clear view, whatever the weather

There are always exciting things to be seen in the world of nature – even in wet weather. This is why ZEISS developed LotuTec. A coating for the lenses of binoculars and spotting scopes that enables a clear and unhindered view in all weather conditions.

ZEISS T* Coating

ZEISS T* coating is a guarantee of the brilliant, high-contrast images­­ which you will experience above all in adverse light conditions and in the twilight. Behind it, however, there is no specific formula for building up the layers. Instead, it is a technology that is constantly adjusted to suit new glass materials and requirements, which varies from lens to lens.
ZEISS LRP S5 318-50 Specs
Performance
| | |
| --- | --- |
| Magnification | 3.6 – 18 × |
| Effective lens diameter | 50 mm |
| Light transmission | 90% |
| Exit pupil diameter | 9.3 – 2.8 mm |
| Twilight factor | 13.4 – 30.0 |
| Field of view at 100 m (yds) | 10.0 – 2.0 m (30 – 6 ft) |
| Objective viewing angle | 5.7° – 1.1° |
| Diopter adjustment range | + 2.0 | − 3.0 dpt |
| Eye relief | 90 mm (3.54 ") |
| Parallax setting | 25 m – ∞ (27 yds – ∞) |
| Vertical adjustment range at 100 m | 40,7 MRAD | 140 MOA |
| Lateral adjustment range at 100 m | 24 MRAD | 60 MOA |
| Adjustment per click at 100 m | 0,1 MRAD | 0,25 MOA |
| Centre tube diameter | 34 mm |
| Eyepiece tube diameter | 46 mm |
| Objective tube diameter | 56 mm |
Features
| | |
| --- | --- |
| LotuTec | Nitrogen filled | + | + |
| Water resistance | 400 mbar |
Physical
| | |
| --- | --- |
| Operating temperature | − 25°C | + 56°C (− 13°F | + 133°F) |
| Length | 343 mm (13.5 ") |
| Weight (without inner rail) | 930 g (32.8 oz) |
| Weight (with inner rail) | − |
Reticle ZF-MRi Illuminated Data Sheet
Reticle ZF-MOAi Illuminated Data Sheet