Please enter the diameter of your scope's magnification ring in the form. If your magnification has a "nub" or protrusion, please select the corresponding box and fill out those details. Refer to the diagram below for measurement designations.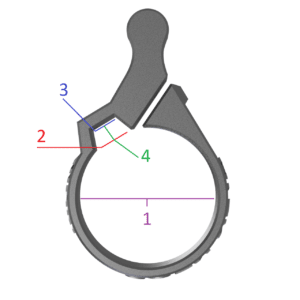 "Custom Text" character count will be limited by lever diameter. See below for approximations:
2.00 inches – 20 characters
1.75 inches – 18 characters
1.50 inches – 15 characters
NOTE: If your scope has a magnification ring with unique features, such as a tapered magnification ring or unique geometry, please contact us via 
[email protected]
 with photographs.