CONQUEST V6 1-6×24
Includes Free Pro Series Throw Lever and Billet Level.
Its wide field of view is ideal for keeping everything in sight on hunts – including danger. When your hunt calls for close-in stalking or requires an immediate reaction to your game, the 1x setting allows for both eyes open and decisive action. A maximum magnification of 6.5× guarantees the flexibility required when hunting and intuitive handling ensures quick responses. The Conquest V6 1-6×24 allows you to focus on what you are hunting, and not the equipment.
With the Conquest V6 riflescope, ZEISS has once again set a new standard in image quality and mechanical precision. Three models cover all facets of hunting and shooting – including long-range. Whether for sitting, stalking game, or long-range applications – the Conquest V6 with 6x zoom is engineered to impress in any environment or scenario.
The Conquest V6 riflescope combines legendary ZEISS quality and technology with field-proven design into one robust package that's within every serious hunter's range. With 92% light transmission, T* (T star) six-layer mult-coatings, FL (fluoride) lenses throughout, and a wide field of view, the ZEISS Conquest V6 delivers incredibly high image quality and clarity, even in the harshest conditions and most challenging environments. The sophisticated optical package is protected by an aluminum housing built for whatever nature throws at it. Rain, snow, dust, dirt, and fingerprints are easily addressed by the LotuTec® protective lens coating.
For the hunter who demands versatility and uncompromised long-range capability, the ZEISS Conquest V6 is the scope that proves lightweight, ruggedness, repeatability, and pristine image quality can be achieved in a riflescope.
Zeiss Conquest V6 1-6×24 Features
SCHOTT fluoride glass for a bright viewing image and optimum target resolution, and the finest resolution of details, even in the harshest conditions and most challenging environment.
The world's finest illuminated dot
The secret behind the precision of ZEISS riflescopes is their ultra-fine illuminated dot and its extremely low target coverage. With only a fraction of the thickness of a human hair, the fibre optics system delivers the world's finest illuminated dot – 3.3-millimetre target coverage at 100 metres is the breathtaking result (V8 & V6 @20x). Pure precision for the smallest targets and the greatest distances.
ZEISS T* coating is a guarantee of the brilliant, high-contrast images­­ which you will experience above all in adverse light conditions and in the twilight. Behind it, however, there is no specific formula for building up the layers. Instead, it is a technology that is constantly adjusted to suit new glass materials and requirements, which varies from lens to lens.
A clear view, whatever the weather
There are always exciting things to be seen in the world of nature – even in wet weather. This is why ZEISS developed LotuTec®. A coating for the lenses of binoculars and spotting scopes that enables a clear and unhindered view in all weather conditions.
Zeiss Conquest V6 1-6×24 Specs
| | |
| --- | --- |
| Magnification | 1.1 – 6.5 × |
| Effective lens diameter | 10.5 – 24 mm |
| Light transmission | 92% |
| Exit pupil diameter | 9.5 – 3.7 mm |
| Twilight factor | 3.1 – 12.5 |
| Field of view at 100 m (yds) | 38.1 – 6.6 m (114 – 20 ft) |
| Objective viewing angle | 21.6° – 3.8° |
| Diopter adjustment range | + 2.0 | − 3.0 dpt |
| Eye relief | 90 mm (3.54 ") |
| Parallax setting | 100 m (109 yds) |
| Square adjustment range at 100 m | 300 cm |
| Adjustment per click at 100 m | 1 cm |
| Centre tube diameter | 30 mm |
| Eyepiece tube diameter | 45.5 mm |
| Objective tube diameter | 30 mm |
| | |
| --- | --- |
| LotuTec | Nitrogen filled | + | + |
| Water resistance | 400 mbar |
| | |
| --- | --- |
| Operating temperature | − 25°C | + 50°C (− 13°F | + 122°F) |
| Length | 290 mm (11.4 ") |
| Weight (without inner rail) | 505 g (17.8 oz) |
| Weight (with inner rail) | 545 g (19.2 oz) |
Zeiss Conquest V6 1-6×24 Reticles
The reticle 60 is lighter and finer than the reticle 40, which was widely used only a few years ago. The bars have only half the subtension of the earlier model and there is twice the amount of free space between them. It is therefore ideally suited for precise shooting with the least possible coverage of the target game. With 12x magnification and a subtension of only 0.55 cm at a distance of 100 m, you always have an excellent overview – no fine details are hidden from view. The illuminated dot is extremely bright and can therefore also be used for daytime hunting. The brightness of the illuminated dot can be dimmed at extremely finely, making it ideal for night hunting as well. The reticle is located in the riflescope's second image plane.
ZMOA-4 | Reticle 95:
Illuminated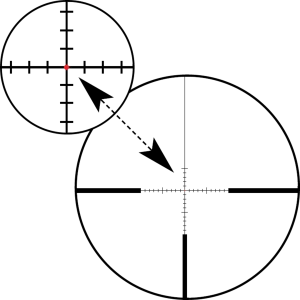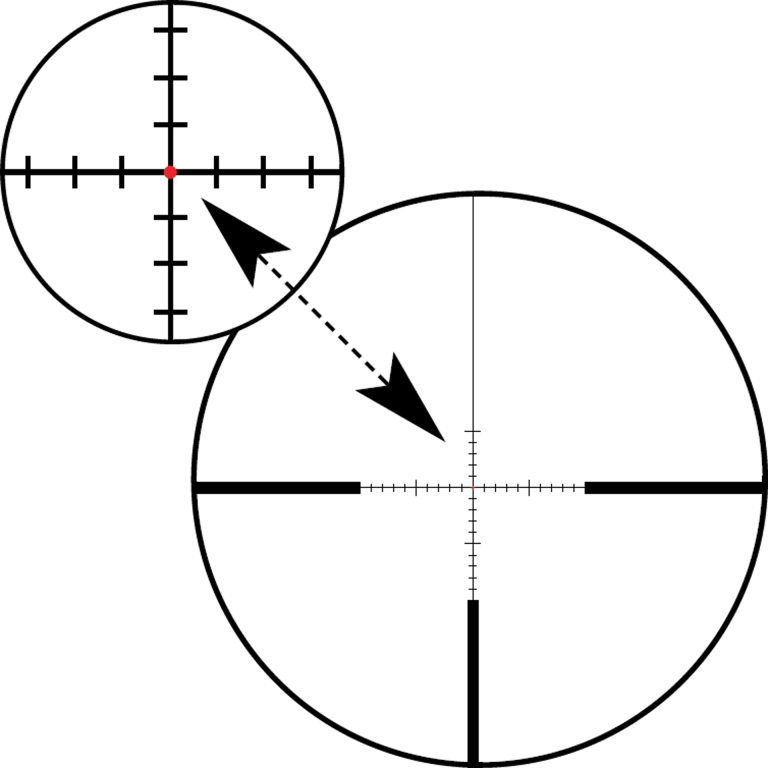 The ZMOA ballistic reticle from ZEISS combined with the finest illuminated dot that guides the eye perfectly to the target. The reticles are located in the second image plane and have a subtension of 4 MOA (ZMOA-4) between the tick marks at the respective riflescope's reference magnification. Since the tick marks are only shown along the crosshairs, the shooter maintains an excellent overview of the entire field of view. They are suitable for both rapid bullet drop compensation and wind drift correction. The ZEISS Hunting app can be used to quickly and precisely determine both values for practically any ammunition, and also displays the distance values in a visual depiction of the reticle.